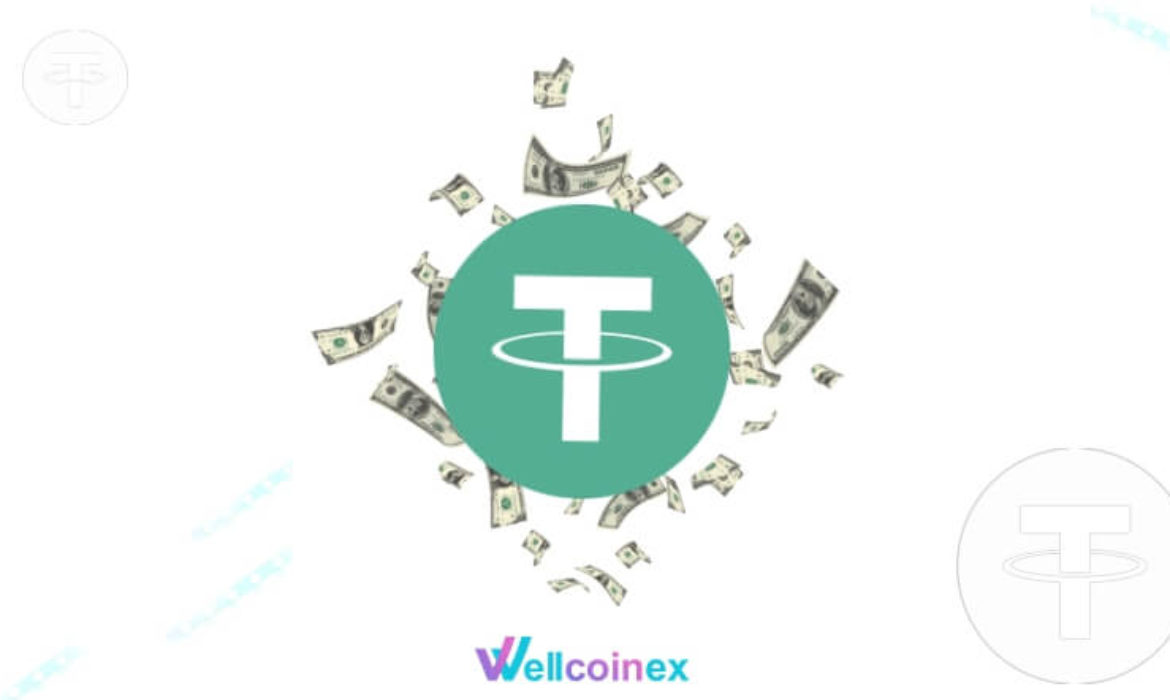 How to Sell USDT for Cash – 3 Ways to Convert USDT to USD
Tether (USDT) is the world's largest "stablecoin" by market capitalization, the value of which is pegged to the US dollar in the ratio of 1:1.
There are more than 65 billion US dollars in circulation, which makes it a reliable stable cryptocurrency, which is often used by investors and traders to hedge against volatility in the markets and is a familiar currency unit when selling cryptocurrencies.
This guide explains how to sell Tether for cash, for example, for the US dollar, the most common ways to cash out USD, and which exchanges offer the best value for money.
Can You Sell Tether
Stablecoin Tether (USDT) is easily sold on cryptocurrency exchanges into other digital assets or fiat currency. Most often, leading cryptocurrency exchanges or peer-to-peer (P2P) platforms are used to convert USDT into cash.
These providers allow USDT holders to sell their tokens through various payment channels, such as transfers to bank accounts, card payments, and even connecting to electronic wallets, such as PayPal and Apple Pay.
One of the best places to sell USDT with low fees, multiple payment methods and a P2P platform is Binance.
Where to Sell USDT into USD
Tether holds the largest share in the fast-growing stablecoin market. As a result, several leading exchanges offer direct support for this fiat-backed crypto asset.
Below we will look at reputable sites where investors can sell Tether in US dollars.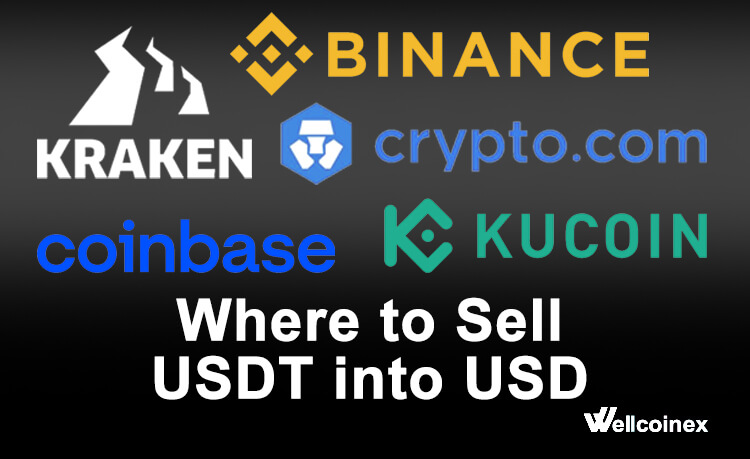 Binance – Exchange with Low Fees to Sell USDT
Binance is the best platform for selling Tether. Launched in 2017, Binance is the largest cryptocurrency trading center with high liquidity. The platform allows users to sell Tether anytime and anywhere without any delay.
Investors can sell Tether for fiat or cryptocurrency using the "Binance Convert" function. With the help of the finite function, users can easily exchange their stable USDT coin for the BSD variant by using the "Convert" button.
Then you can withdraw the fiat funds to the specified bank account. Binance charges $15 for a SWIFT bank transfer and Signet for withdrawing funds in US dollars.
The second option is the withdrawal of cryptocurrencies. Users can exchange USDT for another digital asset or transfer their Tether USDT to a third-party wallet.
When using this option, crypto traders should pay attention to which network their stablecoin is linked to, since Binance supports several blockchain networks.
For example, you should not transfer USDT from ERC-20 to the BEP-20 network, since in this case the funds will be lost forever. The commission for transfers to third-party platforms also depends on the selected network and the volume of transactions in it.
However, if the user's payment method is not supported by the platform, he can sell USDT through a peer-to-peer channel (P2P). Binance's P2P platform allows buyers and sellers to interact for unhindered transactions.
The P2P channel provides access to several digital payment methods, including bank accounts, Skrill, PayPal and WebMoney. At the same time, users can easily choose a seller offering the payment method they need. P2P transactions are made almost instantly.
The advantage of the P2P option on Binance is that users retain full control over their funds until their receipt is confirmed. There are no trading fees for using the Binance P2P platform to sell Tether.
Thus, cryptocurrency users retain the full value of their digital assets. Binance is a reliable platform with two-factor authentication, a white list of addresses and many other modern security protocols.
Coinbase – Suitable for Beginners to Sell
Coinbase, founded in 2012, is the leading cryptocurrency exchange in the United States. The crypto exchange is the only publicly traded provider of digital asset trading services on the Nasdaq trading platform.
The success of Coinbase is largely due to the fact that it is aimed at newcomers to digital asset trading. The broker allows users to buy and sell Tether USDT, as well as more than 9,900 other cryptocurrencies.
Coinbase only offers direct sales of USDT for US dollars. Unlike Binance, there is no P2P platform in the Coinbase app.
The sale of USDT is quite simple. First, users need to add their own payment methods. Then go to the Portfolio operator and select the item "Tether USDT", which will lead to the appearance of the USDT page and many options.
Next, you need to click the "Sell USDT" button, fill in the number of units being sold and initiate a transaction. After the sale, the remaining funds will be added to the investor's Cash balance on Coinbase.
The platform offers withdrawal methods depending on the user's region. For example, American traders can withdraw funds to debit/credit cards, bank accounts and PayPal accounts.
One of the disadvantages of Coinbase are commissions. They are incredibly high and confusing.
For example, the platform charges a commission for the conversion of cryptocurrencies in the amount of 0.5% to 2%.
Investors using the instant bank cashing method are charged 1.5% of the transaction amount when withdrawing funds up to $10,000.
Card transactions are charged up to 1.5% of the transaction amount and a minimum commission of $0.55. To learn more about the Coinbaseplatform and the commissions for the sale of USDT, read our detailed review of Coinbase.
KuCoin – Multiple Fiat Currency Payout Methods
KuCoin is another leading exchange that makes it easy to buy, trade and sell digital assets. This altcoin exchange is distinguished by the fact that it presents cryptocurrencies with a low cap.
These are digital assets with a lower market value, but with great growth potential. The exchange is also known for its large stock of cryptocurrencies.
As for usability, users can work with the platform without much prompting. Ku Coin allows you to sell USDT using the "Quick Deal" option (shown in the screenshot below). This allows traders to sell USDT quickly.
The "Fast Trade" function supports many payment methods, including WebMoney, SEPA, Apple Pay and others. This is the main advantage of KuCoin, since USDT holders are spared the need to choose fiat payment methods.
However, KuCoin does not have a license to operate in the USA.
An alternative to the Fast Trade function is to use the KuCoin P2P platform. The P2P KuCoin service works similarly to Binance.
It offers comprehensive information about available merchants, sales volumes and reputation. To sell USDT, investors must manually find and select a seller by clicking on the "Sell USDT" button.
Enter the amount of USDT you need to sell and click on the corresponding "Sell" icon to place an order. The transfer of funds to the chosen payment method largely depends on the buyer.
But it rarely takes a lot of time, because sellers are evaluated on their reliability and efficiency.
In general, KuCoin is a reliable choice for selling USDT into a traditional currency through the Fast Trade of P2P platform, which is available both on a desktop computer and in a mobile application.
For more information about the exchange's capabilities, read our extended review of KuCoin.
Crypto.com – Convert USDT to Other Stablecoinswith Zero
Crypto.com – a reputable cryptocurrency exchange with a developed ecosystem of digital asset trading. Since its launch in 2016, the cryptocurrency platform has continued to add support for several leading digital assets, including USDT.
The exchange is also characterized by high liquidity: more than 250 assets are supported. In addition to the main exchange, Crypto.com it is notable for its high-end mobile application for cryptocurrencies and the conversion of USDT into other stable coins with zero commission.
The platform offers two ways to withdraw funds. Users can withdraw their USDT to a personal wallet or withdraw them to the application Crypto.com Wallet App.
This is due to the fact that Crypto.com does not support the withdrawal of fiat funds on the exchange. In the app, traders can simply sell their USDT for fiat money.
After confirming the transaction, the investor can initiate a withdrawal request from the application. Processing of a bank transfer request takes from 2 to 5 working days and is free of charge.
To send a transfer request, cryptocurrency users need to create a fiat wallet. For residents of the United States, this is possible only when using the bank transfer option.
No more than five bank accounts can be added at the same time. UK residents can withdraw funds only to the bank account they used to top up their account on Crypto.com. Withdrawal of funds is carried out through the accelerated payments service Faster Payment Service.
Withdrawal of funds to an external wallet address is carried out within a few minutes, but the commission specified at the time of the transaction is charged.
The commission for the withdrawal of USDT mainly depends on the network. For ERC-20 USDT, the commission is US$ 25, and for BEP20 and Polygon – US$ 0.8.
For USDT transactions based on Solana, a commission of $ 1 is charged. More detailed information can be found in our review Crypto.com.
Kraken – Good Exchange in USA for Selling USDT
The latest platform suitable for selling Tether is Kraken. Located in San Francisco, Kraken is one of the best cryptocurrency trading platforms in the industry.
It was launched in 2011 as a bridge for investors to access the emerging cryptocurrency market. The user-friendly interface of the platform allows users to buy and trade more than 200 blockchain-based assets, including Tether.
Users can easily place an order to sell their USDT assets. Among the analogues, Kraken offers one of the most thoughtful ways to withdraw funds. The platform allows you to withdraw funds depending on the fiat currency selected by the user.
Withdrawal of funds is carried out in US dollars. Other fiat currencies such as EUR, GBP, CAD, CHF, AUD, JPY and AED can also be withdrawn to the Kraken platform.
Each currency supports several payment services. The minimum amount to withdraw USD is 1 USD for an Automated Clearing House (ACH).
The waiting period for receiving the withdrawn funds varies, but the maximum period is 5 working days when using the global SWIFT option. Using the Kraken mobile application to withdraw fiat funds does not cause difficulties, since users can effortlessly transfer funds to their bank accounts.
However, we should note the limitations on the withdrawal methods on Kraken. There is no support for debit/credit card withdrawals, as well as third-party solutions such as PayPal and Revolut. However, it is still a decent option for cashing out USDT.
You can learn more about the pros and cons from our detailed Kraken review.
Ways to Sell USDT
The value of USDT, also known as Tether, is pegged to the US dollar at a ratio of 1:1. While the value of other cryptocurrencies may fluctuate over time, the value of Tether is expected to be stable and equivalent to $1. For investors who own Tether, there are many ways to sell this asset. Below we will look at a few of them.
P2P Platforms
Peer-to-peer or P2P platforms are one of the easiest ways to sell USDT. These platforms allow direct trading between traders without intermediaries. P2P platforms provide communication between buyer and seller to facilitate cryptocurrency trading.
In most cases, the platform provides an escrow service where cryptocurrency can be stored in anticipation of fiat payments. In exchange for facilitating this transaction, the platform may charge a small commission.
One of the main advantages of these platforms is that they are much more relaxed about KYC protocols than centralized exchanges. Traders can start working in a matter of minutes and conclude a deal with a counterparty in a matter of minutes.
Another reason why they attract investors is the variety of ways to withdraw funds. Most centralized exchanges are limited in the withdrawal methods they offer.
This is due to a number of reasons, ranging from finding suitable banking partners to local legislation.
On P2P platforms, traders are spared the need to choose. USDT traders can choose the best rate and payment method that suits their needs. Among the best peer-to-peer crypto platforms are Binance P2P and KuCoin P2P marketplace.
Crypto exchange
Looking for how to sell Tether instantly? Pay attention to cryptocurrency exchanges. Cryptocurrency exchanges are third-party platforms that facilitate cryptocurrency transactions between buyers and sellers.
Investors can use a cryptocurrency exchange such as Coinbase to exchange one cryptocurrency for another, for example, to sell Tether for Bitcoin. In addition, the cryptocurrency trading platform can be used to convert USDT back into fiat currencies such as the US dollar.
In exchange for this service, the platform charges a commission. One of the main reasons why investors should use crypto exchanges to sell USDT is the ease of use.
These platforms are often beginner-friendly and fairly easy to set up. The best cryptocurrency exchange offers Tether investors an unhindered process of buying and selling USDT without stress.
Cryptocurrency ATM
A crypto ATM is different from traditional ATMs associated with banks. A crypto ATM is a kiosk with Internet access where cryptocurrency users can buy and sell cryptocurrencies by depositing cash into it. Such ATMs are miniature crypto exchanges that allow you to instantly place orders for buying and selling.
The average ATM is equipped with an ATM, a scanner and a computer for processing digital transactions. Some crypto ATMs work both ways – investors can buy USDT or get cash in exchange for Tether.
In exchange for these services, the ATM charges a commission of about 15% for the transaction. Despite the fact that the commission can be incredibly high, there are several reasons why it is worth using crypto ATMs to sell USDT.
First, they provide an instant sale. Crypto banks typically process USDT transactions in three minutes or less. At the same time, there are no downtime and outages that often occur on exchanges during congested periods.
In addition, the sale of USDT for cash through a crypto bank provides greater confidentiality of transactions. In addition, when using a crypto bank, transactions are always safe.
Bitcoin ATMs are not subject to storage – this means that the investor always has full ownership of his coins.
In addition, a large amount of KYC is not required to initiate a transaction at such ATMs, except for the name and phone number.
This protects the investor in the event that the ATM is hacked or compromised.
Is It Profitable to Sell Tether (USDT)
The short answer is no. USDT is intended to be equated to the US dollar and is not an investment asset. This means that the USDT price remains stable when pegged to 1 US dollar.
The idea is to maintain a stable value so that traditional investors can hedge their bets against the volatility of cryptocurrencies.
However, there are situations or events that allow stablecoin holders to make a profit, but this generally depends on the user's region or the situation at a particular time.
For example, the rise in inflation caused by the global pandemic has led to the fact that some fiat currencies have lost their purchasing power. In some countries, citizens turn to Tether to insure against the fiat currency of their state.
When Is the Best Time to Sell USDT
The decision to sell Tether should largely depend on the circumstances surrounding the user. For example, in a bear market, when the value of crypto assets is falling, a crypto trader may decide to sell USDT to buy altcoins at a discount.
In addition, an increase in the value of the dollar in the user's national currency can be a profitable moment for cashing out USDT. In fact, choosing the best time to sell USDT is subjective, since there are no clear guidelines for them.
Fees to Sell USDT
A commission is usually charged for the sale of USDT tokens. However, this largely depends on the platform chosen for the transaction. For example, when using the Coinbase platform, the commission ranges from 0.4% to 0.6%, as well as a fixed fee of $ 2.99 per transaction.
Binance is cheaper and charges about 0.1%, and for traders using Binance Coin (BNB) as a settlement for transactions, this figure may be lower.
When using P2P platforms, various payment methods and costs are used.
Binance, the most popular P2P platform, certainly has a zero commission policy for all P2P transactions. Investors using this platform get a lot of advantages.
Other good peer-to-peer platforms, such as Paxful, offer a broader list of assets that can be traded on their platform.
However, the commission for the sale of USDT ranges from 0.1% to 5%. There is also a 1% service fee for processing withdrawals from the exchange.
When using a crypto ATM, users also need to pay a processing commission. This fee is charged in addition to the network fee required to verify the network.
This commission is not charged by the ATM operator. Instead, it is passed to the network validators, who are engaged in checking and ensuring the security of the blockchain.
Given that USDT is used in several blockchain networks, investors should pay attention to the USDT network used before initiating a transaction in a crypto bank.
For example, a USDT transaction sent on the Ethereum network may be more expensive than one sent via Solana, Tron or Avalanche.
This is due to the fact that the Ethereum network has a system of high gas charges. Therefore, users should monitor the current gas collection before initiating an order to sell an asset backed by Ethereum.
How to Sell USDT on Binance P2P
We present a detailed overview for investors wondering how to sell Tether. Our best choice for this review is the Binance exchange.
This platform has one of the highest liquidity among all stable coins in the ecosystem, and all transactions for the sale of USDT on Binance P2P have zero trading commission. To get started, follow these detailed steps:
Create an account with a crypto exchange
Visit the official Binance website. American investors located in the USA can only access the domain Binance.US.
Other traders are free to visit the Binance global platform. On the main page of the website, click the "Register" button and select "Create an individual account" to register a personal account.
Then enter a valid email address, mobile phone number and a unique password. Investors must verify their email addresses and phone numbers for two-factor authentication (2FA) purposes. Follow the prompts on the screen to access the new account.
Complete ID verification
Binance is a regulated organization, therefore, in order to gain full access to the exchange, new users must undergo the necessary verification procedure (Know-your-customer, KYC).
To do this, click on the profile icon and select "Check". Then upload a copy of the latest model driver's license and go through the face verification procedure.
After that, a green ticker icon will appear next to the user profile icon. This means that the account is verified. If verification takes more than 3 days, read this article about how long it takes to verify on Binance.
Deposit Tether (USDT) into the wallet
Binance offers traders many ways to top up their accounts. Investors can convert other assets, for example, sell Bitcoin into cash (USDT) or transfer from their mobile wallet to an exchange.
To transfer USDT to the Binance hot wallet, click on the "Top up" button in the "Wallet" section and enter "USDT". Then select the blockchain network through which the transfer will be made and copy the wallet address.
Insert it into your wallet and confirm the transaction. In a few minutes, the equivalent will be credited to the spot wallet. The time of the USDT transfer may depend on the selected network.
Set the USD payment method
Then set your preferred payment method. Click on the profile icon and select "Payment method" from the settings menu.
Click the "P2P Payment Methods" button and add the details of the recipient's bank account. for example, bank transfer or SWIFT.
Confirm transaction and sell USDT
The last step is the transfer of USDT from the "Spot" section to the "Funding" section. Click on "P2P" and select "Sell". Binance allows users to manually view all the lists of verified sellers and the "Express" option, which gives access to the best prices. As soon as a good deal appears, click on it and set the amount of USDT for sale.
Click the "Sell USDT" button and wait for the buyer to withdraw equivalent funds. Tether investors also have access to a chat function with which they can communicate with a counterparty. In order not to lose funds, select the 'Payment Received' button if they are on the specified account.
FAQ
How to sell your Tether in US Dollars?
Users can easily exchange their USDT for regular US dollars using a P2P service, such as Binance P2P. Create an account on Binance, upload the necessary documents, deposit Tether from a crypto wallet and sell it on the P2P service.
Is it possible to cash out Tether?
Tether can be easily exchanged for regular fiat currency on platforms such as Binance, Coinbase and Kraken. These exchanges support the conversion of USDT into cash with payment to a bank account.
How much does it cost to sell Tether?
This largely depends on the platform chosen by the user. However, Binance currently charges zero commission for the sale of USDT tokens.
How to sell Tether on Binance?
First of all, you need to create an individual account and upload a recent driver's license or official passport. To complete the KYC process, you will need to go through the face verification procedure.
After verification of the account, users can top it up with the amount of USDT that they want to sell.
Currently, Binance has a minimum withdrawal amount of $20. Select a seller and place a sell order. The funds will be placed on the specified account within 15 minutes.
Conclusion
In this guide to selling USDT, we have reviewed the best platforms for selling this crypto asset and ways to get started. Our best choice for converting USDT to US dollars is Binance.
The platform offers zero commission and a lot of verified users, which provides the best liquidity and reduces slippage in large transactions for the sale of USDT (and other stable coins, such as USDC).