What is Reef Finance
Reef Finance is a decentralized finance (DeFi) platform built on top of the Polkadot blockchain. It aims to simplify the DeFi experience by aggregating liquidity from various sources and providing users with a unified interface to access multiple decentralized exchanges (DEXs), lending platforms, and other DeFi applications.
Reef Finance focuses on improving user experience and reducing the complexity associated with navigating different DeFi protocols. It achieves this through the use of smart liquidity aggregator technology, which enables users to access the best available liquidity across multiple chains and platforms. By aggregating liquidity, Reef Finance aims to offer competitive trading rates and reduce slippage for users.
The platform also incorporates automated portfolio management tools and yield optimization strategies. Users can manage their DeFi assets, perform automated trading, and participate in yield farming or staking activities directly through Reef Finance.
Reef Finance's native token is called REEF. It serves various purposes within the ecosystem, including governance, staking, and participating in the Reef Chain's consensus mechanism. The Reef Chain is a dedicated blockchain developed by Reef Finance, designed to enhance scalability and enable high-speed transactions for DeFi applications.
Overall, Reef Finance aims to provide a user-friendly and accessible gateway to the world of decentralized finance, offering a range of services and tools to simplify and enhance the DeFi experience for users.
The history of Reef Finance
Reef Finance was founded in 2020 by Denko Mancheski, a serial entrepreneur with experience in the blockchain and cryptocurrency space. The project emerged during the rise of decentralized finance (DeFi) as a way to address the challenges and complexities faced by users navigating the fragmented DeFi ecosystem.
The initial development of Reef Finance was focused on creating a platform that could aggregate liquidity from multiple sources and provide users with a simplified interface to access various DeFi protocols. The goal was to offer a seamless user experience, enhance liquidity provision, and optimize yield farming strategies.
In December 2020, Reef Finance conducted its initial DEX offering (IDO) on the Polkastarter platform, raising funds and generating interest in its project. Shortly after, the REEF token was launched, serving as the native currency of the Reef Finance ecosystem.
In early 2021, Reef Finance launched its mainnet, known as Reef Chain. Reef Chain is built on the Polkadot network, which provides a scalable and interoperable infrastructure for decentralized applications. By leveraging the features of Polkadot, Reef Chain aims to facilitate cross-chain compatibility and improve scalability for DeFi applications built on top of Reef Finance.
As the platform developed, Reef Finance continued to enhance its offerings and expand its ecosystem. It formed strategic partnerships and collaborations with various projects in the blockchain space to foster innovation and interoperability. Additionally, Reef Finance introduced features such as automated portfolio management, yield optimization strategies, and integrations with leading decentralized exchanges (DEXs) to provide users with comprehensive DeFi solutions.
It's important to note that the information provided here is accurate up until my last knowledge update in September 2021. To stay updated with the latest developments and milestones of Reef Finance, I recommend referring to their official website and social media channels.
How Reef Finance works
Reef Finance operates as a decentralized finance (DeFi) platform that aims to simplify and streamline the user experience in the DeFi ecosystem. Here's an overview of how Reef Finance works:
Liquidity Aggregation: Reef Finance aggregates liquidity from various decentralized exchanges (DEXs), lending platforms, and other DeFi protocols. By doing so, it pools together liquidity from different sources, allowing users to access the best available rates and reduce slippage when trading or swapping tokens.
Smart Yield Farming: Reef Finance offers automated yield farming strategies to help users maximize their returns on their DeFi investments. The platform optimizes yield farming by automatically reallocating funds between different protocols, taking into account factors such as gas fees, yields, and risks. This enables users to participate in yield farming with minimal effort and with the potential for higher returns.
Portfolio Management: Reef Finance provides users with tools to manage their DeFi assets and portfolios effectively. Users can track their investments, view performance metrics, and analyze their exposure across various protocols and assets. This allows for better portfolio diversification and risk management.
One-Click Access: Reef Finance offers a unified interface that allows users to access multiple DeFi applications and protocols seamlessly. Users can perform various actions, such as trading, staking, lending, borrowing, and liquidity provisioning, all within the Reef Finance platform. This simplifies the user experience by eliminating the need to navigate multiple platforms individually.
Reef Chain: Reef Finance operates on its own blockchain called Reef Chain, built on top of the Polkadot network. Reef Chain leverages the scalability and interoperability features of Polkadot to enable faster and more efficient transactions for DeFi applications. It also facilitates cross-chain compatibility, allowing users to access assets and services from different blockchains.
REEF Token: The native token of Reef Finance is called REEF. It serves various functions within the ecosystem, including governance, staking, and participating in the consensus mechanism of Reef Chain. Users can stake their REEF tokens to earn rewards and participate in platform governance through voting on proposals and protocol upgrades.
Overall, Reef Finance aims to simplify and enhance the DeFi experience by aggregating liquidity, automating yield farming strategies, and providing a user-friendly interface for managing DeFi assets.
By offering these features, Reef Finance seeks to make DeFi more accessible, efficient, and rewarding for users.
Can Reef Finance be trusted
As an AI language model, I don't have real-time information or personal opinions. However, I can provide some general guidance on assessing the trustworthiness of a project like Reef Finance:
Team and Background: Research the team behind Reef Finance. Look for their experience in the blockchain industry, their track record, and whether they have been involved in reputable projects in the past. Assessing the team's credentials and expertise can provide insights into the project's legitimacy.
Community and Adoption: Evaluate the size and engagement of the project's community. A strong and active community can indicate that there is genuine interest and support for the project. Additionally, look for partnerships and collaborations that Reef Finance has formed with established projects or organizations, as this can validate its credibility.
Transparency and Auditing: Check if Reef Finance provides transparency in its operations and regularly undergoes audits by reputable third-party firms. Transparent and audited projects provide additional assurance regarding the security and reliability of the platform.
Security Measures: Investigate the security measures implemented by Reef Finance. Look for information about their smart contract audits, bug bounties, and security protocols. A project that prioritizes security and takes proactive steps to mitigate risks is generally more trustworthy.
Roadmap and Updates: Review the project's roadmap and its progress in achieving its milestones. Regular updates and transparency in communicating progress can indicate a committed team and a well-managed project.
Independent Research: Conduct your own research and due diligence. Read whitepapers, technical documentation, and any available reviews or analysis from reputable sources. This will help you gain a comprehensive understanding of Reef Finance and make an informed decision.
It's important to note that while these factors can contribute to assessing trustworthiness, no project is completely risk-free. Investing or participating in any cryptocurrency or DeFi project carries inherent risks, including the potential for financial loss. Therefore, it's crucial to exercise caution, diversify your investments, and only invest what you can afford to lose.
If you're considering investing or using Reef Finance, it's advisable to consult with financial advisors or individuals experienced in the cryptocurrency space for personalized guidance.
Does Reef Finance charge a fee
Yes, Reef Finance charges fees for various activities and services within its platform. The specific fee structure may vary depending on the type of transaction or service. Here are some common fees associated with Reef Finance:
Trading Fees: When users engage in trading activities, such as swapping tokens or trading on decentralized exchanges (DEXs) through Reef Finance, they may be subject to trading fees. These fees are typically charged as a percentage of the transaction value and are used to incentivize liquidity providers and maintain the platform's operations.
Gas Fees: Gas fees are the transaction fees required to execute operations on the blockchain network. Since Reef Finance operates on Reef Chain, users may incur gas fees when interacting with the platform, such as making trades, staking, or participating in yield farming. The amount of gas fee depends on the complexity and computational resources required for the specific transaction.
Staking and Governance Fees: If users participate in staking activities on Reef Finance or engage in governance by voting on proposals or protocol upgrades, there may be fees associated with these actions. These fees can vary and are designed to align incentives, ensure network security, and support the platform's governance mechanisms.
It's important to review Reef Finance's official documentation, website, or consult with their support team to get the most up-to-date and accurate information regarding the specific fees associated with their platform.
Additionally, it's advisable to consider the fees when evaluating the overall costs and potential returns of using Reef Finance or engaging in its services.
What is yield farming
Yield farming is a method of producing incentives by giving decentralized finance (DeFi) protocols access to liquidity. Users who engage in yield farming contribute their cryptocurrency to liquidity pools, which are smart contracts that carry out transactions automatically and give liquidity to other platform users. Users are rewarded with interest or extra tokens from the platform's native token in return for generating liquidity.
Since yield farming enables users to earn substantial returns on their cryptocurrency holdings, it has grown in popularity in the DeFi sector. However, compared to traditional investments, it also carries a higher level of risk because the yield and token value can fluctuate greatly. Before engaging in yield farming, users should conduct thorough study and understand the risks involved.
The history of Yield Farming
The rise of automated market makers (AMMs) and the development of decentralized finance (DeFi) are key factors in the history of yield farming. With the introduction of the COMP token by Compound Finance, a lending and borrowing protocol built on the Ethereum blockchain, in the middle of 2020, the idea of yield farming first came into being.
The COMP token was created to encourage users to fund the network, hence boosting its liquidity and transaction volumes. The token was sent out to users who supported the protocol financially, and as more users engaged in yield farming, its value soon increased.
The growth of yield farming was also significantly influenced by automated market makers (AMMs). Many DeFi protocols use these smart contracts to add liquidity to their platforms, allowing users to trade cryptocurrencies without using conventional order books.
The price of a cryptocurrency is established by AMMs using a mathematical algorithm based on supply and demand. Users can do this whenever they want to buy or sell cryptocurrencies without depending on other buyers or sellers.
Users can receive a portion of the platform's transaction fees as well as additional benefits in the form of tokens from the platform's native token by lending liquidity to AMMs. As a result, cryptocurrency owners now frequently use yield farming to generate big returns on their DeFi investments.
How yield farming works
Here's how it works:
The first step is to choose a DeFi platform that rewards yield farming. These platforms frequently employ automated market maker (AMM) protocols, which let users trade cryptocurrencies devoid of the need for conventional order books.
After deciding on a platform, you must supply liquidity by adding cryptocurrency to the platform's liquidity pool. Sending cryptocurrency to a smart contract that automatically conducts trades on the site is the necessary step in this process.
In return for supplying liquidity, you'll get paid in the form of transaction fees, interest, or native tokens from the platform. Depending on the platform, the rewards are typically given out in the same cryptocurrency that you contributed, or in a separate coin.
You must manage your position as a yield farmer by keeping an eye on the worth of the tokens you've deposited and the benefits you're receiving. To maintain the ideal ratio of tokens in the liquidity pool, you might also need to rebalance your position by adding or subtracting liquidity.
When you're prepared to do so, you can withdraw your money by taking your liquidity out of the pool. Withdrawing your money could be subject to a waiting period or a cost, depending on the platform.
It's important to note that yield farming involves higher levels of risk compared to traditional investments, as the value of the tokens and the yield can be highly volatile. It's important for users to carefully research and understand the risks involved before participating in yield farming.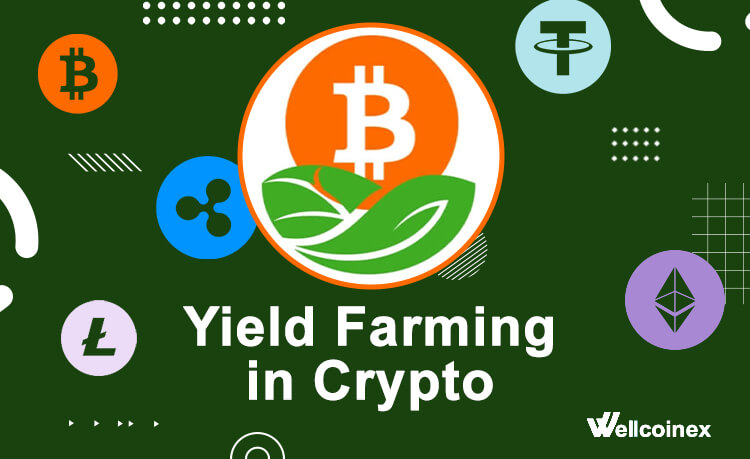 Is yield farming still profitable
The profitability of yield farming can vary depending on market conditions, the particular DeFi platform being used, and the specific cryptocurrency being used to provide liquidity.
In general, yield farming can still be profitable, but it also involves higher levels of risk compared to traditional investments. The value of the tokens used for liquidity and the yield offered by the platform can be highly volatile, and there is always a risk of losing the invested funds.
Furthermore, the competition among yield farmers has increased over time, leading to lower yields and rewards in some cases. This means that users may need to carefully research and select the most profitable platforms and strategies to achieve high returns on their investments.
Overall, yield farming can be a profitable investment strategy for those willing to take on the associated risks, but it's important to carefully research and understand the risks involved before participating.
What is the difference between staking and yield farming
In the decentralized finance (DeFi) realm, yield farming and staking are both methods for earning rewards, although they each have unique qualities.
Staking is the practice of keeping cryptocurrency in a wallet or on a network to assist the security and administration of the network in exchange for rewards.
Staking often entails securing cryptocurrencies for a predetermined amount of time, with incentives typically being paid out in the same cryptocurrency that was staked. Proof-of-stake (PoS) blockchain networks frequently use staking to protect the network and encourage users to hold and spend their tokens.
On the other hand, yield farming entails giving liquidity to a DeFi platform in return for benefits. AMM systems, which allow users to trade cryptocurrencies without depending on conventional order books, are often fueled by user liquidity. Users receive benefits in the form of transaction fees, interest, or tokens from the platform's native token in return for providing liquidity.
Although both staking and yield farming involve receiving rewards for holding cryptocurrency, staking is more concerned with network security and governance, whereas yield farming is more concerned with liquidity provision and encouraging users to use the DeFi platform.