The convergence of AI and DeFi could be a tipping point, with trading and portfolio management becoming the main use cases.
Over the past few years, the crypto industry has faced serious problems, such as broken exchanges, regulation, the collapse of projects and the rejection of stable coins.
These problems have led to an atmosphere of uncertainty and skepticism in the industry.
However, the obstacles that had to be faced opened the way for new participants, and with them innovative solutions that continue to stimulate the development of decentralized finance (DeFi).
At the forefront of these efforts is the growing drive to integrate artificial intelligence (AI) into financial ecosystems, which represents the next step for cryptocurrencies.
This central focus is on and is aimed at increasing sustainability, reducing risks and creating a sustainable and reliable foundation for the future of the industry.
One of the options for using artificial intelligence in DeFi is related to trading and portfolio management.
The tools allow us to improve forecasting capabilities by introducing more advanced and accurate models for predicting the movement of prices for cryptocurrencies.
AI-based trading tools can analyze huge amounts of price data, identify graphical patterns, and take bullish or bearish positions using technical analysis indicators.
Such tools are not only more accurate and more powerful than human ones, but also completely unaffected by the psychological aspect, allowing you to enter and exit positions in accordance with the strategy.
And it can make transactions based on pre-set conditions and learned patterns, which allows trading around the clock and with high efficiency. This could open up more opportunities for traders in volatile cryptocurrency markets.
Improving DeFi with AI
One example of a DeFi trading platform with artificial intelligence support is Athena GPT, a product of NFA Labs (NFAi).
Athena is part of a broader DeFi ecosystem known as Not Financial Advice (NFA), which will also include the Canis lending protocol and the Hecate insurance protocol.
The trading platform has an intuitive dashboard and powerful artificial intelligence tools, including the Athena portfolio management service, which can work with more than 35 cryptocurrency pairs.
It can analyze and predict their prices in real time and automatically open long and short positions.
Athena also uses AI training capabilities to take futures trading positions and return profits to the ecosystem, increasing its speculative value.
In addition, the ability to assess market sentiment on the basis of major social media platforms such as Twitter and Reddit, working around the clock, gives investors a constant opportunity to make profitable trades in both bullish and bearish markets.
A distinctive feature of NFA Labs in this area is its focus on identifying the main problems of cryptocurrencies and creating their solutions, expanding the boundaries of what is possible with the help of artificial intelligence and creating a thoughtful economic structure that will resonate with investors who have simply accepted some realities that the project seeks to refute.
NEO Labs demonstrates the capabilities of artificial intelligence and how this technology can make DeFi more attractive to investors of all types by reducing dependence on centralized structures exposed to a variety of other risks.
The combination of DeFi and artificial intelligence can change the financial world, democratizing access to financial instruments and opportunities previously available only to a limited number of traders.
What is Kyber Network
Kyber Network is a decentralized exchange protocol that allows for the instant exchange and conversion of digital assets, such as cryptocurrencies and tokens, without the need for a trusted third party. It operates on the Ethereum blockchain and uses smart contracts to enable seamless, secure, and transparent transactions between different parties.
The platform allows users to trade a wide variety of digital assets, including ERC-20 tokens, which are the most common type of token on the Ethereum blockchain. It also supports the use of a range of different wallets and other applications, making it a flexible and accessible option for traders and developers.
One of the key benefits of Kyber Network is that it provides liquidity for decentralized finance (DeFi) applications, allowing for greater market efficiency and flexibility. It also provides a simple and user-friendly interface for trading digital assets, making it accessible to both experienced traders and beginners.
Overall, Kyber Network is a key player in the rapidly growing DeFi ecosystem, and it offers a range of benefits for those looking to trade and exchange digital assets in a decentralized and secure manner.
The history of Kyber Network
Kyber Network was founded in 2017 by Loi Luu, Victor Tran, and Yaron Velner, with the goal of creating a decentralized exchange that would make it easy for users to exchange digital assets in a secure and transparent way. The project was initially launched as a decentralized exchange (DEX) built on the Ethereum blockchain, and it quickly gained popularity among traders and developers.
In September 2017, Kyber Network held an initial coin offering (ICO) to raise funds for the project. The ICO was a success, raising over $50 million in just 24 hours, and it helped to solidify Kyber Network's position as a major player in the emerging DeFi ecosystem.
In early 2018, Kyber Network launched its mainnet, which enabled users to trade a wide range of digital assets, including ERC-20 tokens, in a decentralized and transparent way. The platform quickly gained a reputation for its fast transaction speeds and low fees, and it attracted a growing number of users and developers.
Over the next few years, Kyber Network continued to expand its offerings and partnerships, working closely with other DeFi projects and protocols to provide liquidity and support for a range of decentralized applications. In 2020, Kyber Network announced the launch of KyberPRO, a suite of tools and services aimed at institutional traders and developers.
Today, Kyber Network is recognized as one of the leading decentralized exchanges in the DeFi space, with a strong track record of innovation and a growing user base.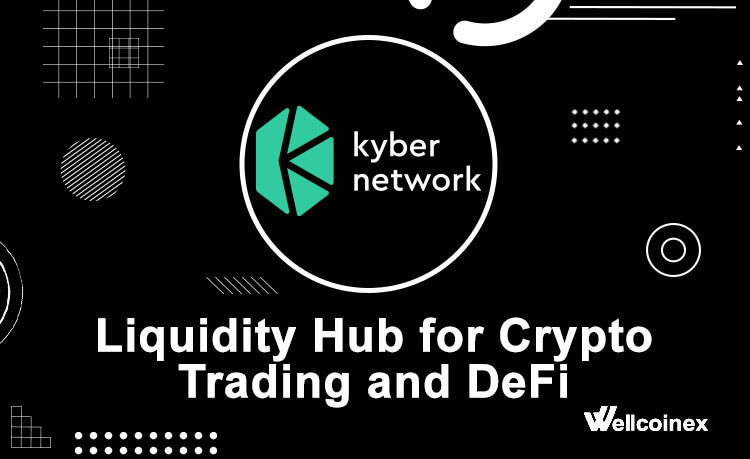 How Kyber Network works
Kyber Network is a decentralized exchange protocol that allows for the instant exchange and conversion of digital assets, such as cryptocurrencies and tokens, without the need for a trusted third party. Here's a brief overview of how it works:
User initiates a trade: A user initiates a trade by sending a transaction to the Kyber Network smart contract, specifying the digital assets they want to trade and the desired exchange rate.
Smart contract matches the trade: The Kyber Network smart contract then matches the trade with the best available rate from a pool of liquidity providers, which includes both individual users and professional market makers.
Conversion and settlement: Once the trade is matched, the digital assets are converted and settled automatically using smart contracts. The traded assets are then sent to the user's wallet.
Fees: Kyber Network charges a small fee for each trade, which is paid in its native token, KNC. This fee is distributed to liquidity providers as an incentive for contributing liquidity to the platform.
Overall, Kyber Network provides a simple and user-friendly interface for trading digital assets, while also leveraging the power of smart contracts and decentralized technology to ensure transparency, security, and flexibility.
Can Kyber Network be trusted
Kyber Network is a decentralized exchange protocol that operates on the Ethereum blockchain, which means that it is a trustless system that operates without the need for a centralized authority or intermediary. The platform is designed to be transparent, secure, and flexible, and it has been audited by several reputable third-party security firms to ensure its reliability and safety.
Kyber Network also has a strong track record in the DeFi space, with a growing user base and a range of partnerships and collaborations with other leading DeFi projects and protocols. The platform has been integrated into a wide range of applications and wallets, making it accessible and user-friendly for traders and developers.
However, like any decentralized platform, Kyber Network is subject to certain risks and limitations. For example, it is vulnerable to hacking attempts and security breaches, and the value of digital assets traded on the platform can be volatile and subject to market fluctuations.
Overall, while Kyber Network is generally considered to be a trustworthy and reliable platform for decentralized asset trading, users should exercise caution and conduct their own research before using the platform or investing in digital assets. It is always important to be aware of the risks and limitations associated with any decentralized technology.